FREE Product... Enjoy!

SmartNet Pocket Islam Download Manager (PC version)
Make your Pocket PC The ultimate Islamic resource tool. Pocket Islam is designed to support (Pocket PC/Windows Mobile) the following devices:
Pocket PC 2000

Pocket PC 2002
Pocket PC 2003
Pocket PC 2003 Second Edition
Pocket Islam Download Manager enables you to connect to SmartNet server and download Holy Quran audio files (mp3) files, Athans and reminders for Pocket Islam with simple PC application

Download Quran Surhas from SmartNet server

Download Athan

Download Reminders.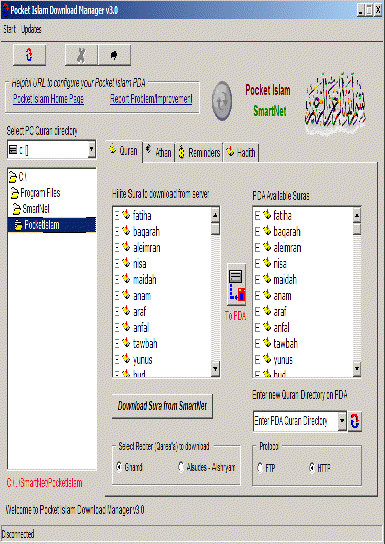 If you have problem downloading the Quran audio (mp3) files using Pocket Islam Download Manager Click Here

Download Links
Pocket Islam v3.0 Download Manager
Pocket Islam v4.1 Athans Collection
Compatible Devices: All Pocket PC devices